703-844-0184 CALL FOR AN APPOINTMENT TODAY!

NOVA Addiction Specialists website – Suboxone and telemedicine treatment in Alexandria, Virginia 703-844-0184

Dr. Sendi – at NOVA Addiction Specialists can evaluate you to see if Sublocade will work for you.

NOVA Addiction facebook page

Suboxone treatment in Alexandria, Virginia 703-844-0184

Suboxone treatment in Fairfax, Virginia 703-844-0184

https://suboxonewoodbridge.com

Suboxone, buprenorphine telemedicine treatment in Alexandria  << Link here

http://addictiondomain.com/ Addiction Blog

https://www.facebook.com/novaddiction – Facebook page

http://www.suboxonealexandria.com

http://www.suboxonecenter.org/ Suboxone treatment – telemedicine also – 703-844-0184 24/7
What are the symptoms for Suboxone withdrawal?
Suboxone withdrawal can last for as long as a month, and symptoms can include:
Nausea
Vomiting
Headaches
Muscle aches
Insomnia
Lethargy
Digestive distress
Anxiety
Depression
Irritability
Drug cravings
Fever
Chills
Sweating
Headache
Concentration difficulties
Suboxone is a medication used to treat opiate dependence that contains buprenorphine and naloxone.
While Suboxone can be an effective medication to aid in recovery from opiate dependence, it is often a drug that is taken for long periods of time after the user has stopped taking other addictive opioids. Despite its effectiveness, Suboxone can also be addictive. As a partial opioid agonist, Suboxone produces similar withdrawal effects to other opioids if it is quit "cold turkey."
SYMPTOMS OF WITHDRAWAL FROM SUBOXONE CAN INCLUDE:
Nausea and vomiting
Muscle/body aches
Insomnia or drowsiness
Indigestion
Anxiety, depression, and irritability
Cravings
Fever or chills
Sweating
Headache
Difficulty concentrating
The symptoms can vary in severity and duration, depending on how long users have been taking Suboxone, as well as the dosage of the drug.
Timeline of Withdrawal
Generally, most physical withdrawal symptoms will subside after one month, though psychological dependence can still remain. Symptoms are the worst in the first 72 hours of Suboxone withdrawal. This is when most physical symptoms are experienced. Then, in the first week after discontinuation of Suboxone, symptoms generally subside to general aches and pains in the body, as well as insomnia and mood swings. After the second week, depression is the biggest symptom. After one month, users will likely still be experiencing intense cravings and depression. This is the most delicate time after stopping Suboxone use, as users have a great potential for relapse. As such, the timeline for Suboxone withdrawal is as follows:
72 hours: Physical symptoms at their worst
1 week: Bodily aches and pains, insomnia, and mood swings
2 weeks: Depression
1 month: Cravings and depression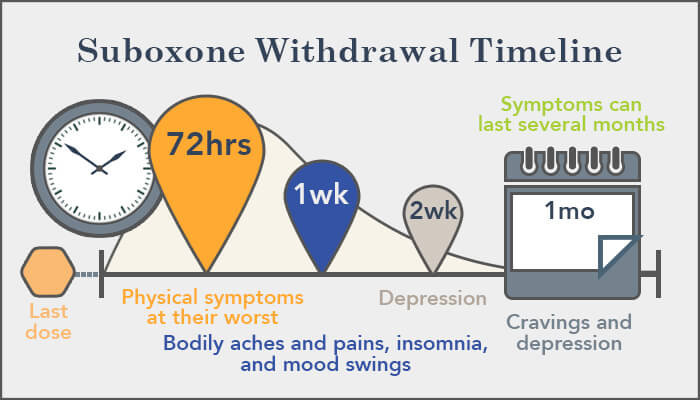 Suboxone is a prescription medication that is used as part of an opioid treatment program that includes behavioral therapy and counseling. Suboxone, which contains buprenorphine and naloxone, can be an effective medication for opiate dependence but sometimes, it must be taken for long periods of time after the user has stopped using addictive opioids. Despite its effectiveness, Suboxone can also be addictive AND it produces similar withdrawal effects to other opioids if it is quit "cold turkey." Symptoms of withdrawal from Suboxone can include:
Nausea and vomiting
Muscle and body aches
Anxiety, depression, and irritability
Fever or chills
Sweating and Headaches
The symptoms can vary in severity and duration, depending on how long users have been taking Suboxone, as well as the dosage of the drug. Generally, most physical withdrawal symptoms will subside after one month, though psychological dependence can still remain. Suboxone Withdrawal Symptoms are the worst in the first 72 hours. This is when most physical symptoms are experienced. Then, in the first week after discontinuation of Suboxone, symptoms generally subside to general aches and pains in the body, as well as insomnia and mood swings. After the second week, depression is the biggest symptom. After one month, users will likely still be experiencing intense cravings and depression. This is the most delicate time after stopping Suboxone use, as users have a great potential for relapse. If you or a loved one is suffering from addiction to suboxone, please seek help immediately from a treatment professional. Like any other addictive substances, withdrawal from Suboxone can last several months. Though the major physical symptoms will cease after a month of not taking the drug, psychological symptoms can go on for several months.
Due to this prolonged potential withdrawal, it is important for those who have stopped taking Suboxone to be in contact with a medical professional to prevent relapse.
Managing Addiction without Medication
For most people in recovery, the use of Suboxone is temporary. Use of the medication will eventually be tapered to make way for total sobriety. This process should be done in a slow and measured way, allowing for plateaus to accommodate the individual's experience and stability along the way. When Suboxone becomes the object of addiction, however, and use of the medication no longer serves the person in a positive way, it becomes necessary to chart a new path to recovery that may not include the use of opioid medications of any kind. This requires the guidance of a team of substance abuse treatment professionals who are:
Educated and experienced in substance abuse treatment
Aware of all the issues contributing to the client's current situation
Dedicated to offering a comprehensive treatment plan individualized to meet the client's needs
Available to provide long-term support
Through comprehensive treatment that includes medical care to address detox and associated withdrawal symptoms as well as therapeutic intervention, medication may not be necessary.
Key Characteristics of Nonmedicated Detox
Highly educated, experienced treatment professionals
Alternative therapies to manage physical withdrawal symptoms
Peer support
Therapeutic follow-up care
Long-term aftercare and continued relapse prevention
Therapeutic Support and Recovery
The key to maintaining sobriety for the long-term is therapy. Without it, it will be impossible to remain abstinent for any meaningful length of time. Depending on the experience of the client leading up to and during addiction, and goals for the future, the therapeutic choices incorporated into an individualized treatment plan may vary widely from person to person. In most cases, however, a therapeutic treatment plan to address Suboxone addiction will include:
Evaluation and assessment: A full understanding of all the issues that play a role in a person's use of drugs is essential to creating a directed and effective treatment plan. Behavioral disorders, co-occurring mental health disorders, underlying medical conditions, trauma, and more are identified early on in order to ensure that these issues are all addressed during the treatment process.
Unique treatment plan: Depending on the results of the evaluation and assessment, the person's goals for recovery, length of time in treatment, and available resources, a unique treatment plan is created.
Personal therapy: Meeting regularly with a therapist on a one-on-one basis can provide a "home base" for the client throughout recovery. Here, it is possible to work on past issues and present challenges, and manage treatment goals.
Individualized case management: Case management is required to ensure that all pieces of the puzzle are fitting together in a way that provides coping skills for a long and stable recovery after treatment.
Group therapy sessions: Meeting regularly with others who are also on the path to balance in sobriety can provide a valuable network of support during treatment and in the months and years following.
Peer support, or 12-Step, meetings: The 12-Step treatment structure has proven beneficial in the lives of millions of people, and many treatment programs incorporate the philosophy and group session style into their programs. This not only offers clients positive support in recovery but also provides them with a portable therapy option that will assist them in the transition into independent sobriety.
Alternative therapies: Artistic therapies, food-based therapies, exercise therapies, animal-assisted therapies, and more can be excellent additions to the traditional therapies mentioned above. These should be chosen based on a client's interests and areas of need. For example, those struggling with making positive connections with other people in recovery and trusting themselves may opt for a sports and adventure therapy that takes them into the outdoors with a group to explore nature and step outside their comfort zone.
Holistic therapies: Holistic therapies can also be personalized to suit the personality and interest of the individual. Some popular options include yoga, meditation, drumming, hypnotherapy, acupuncture, and more.
Long-term aftercare and support: Treatment does not stop when rehab ends. Rather, this initial phase of recovery is just a starting point, and those who are most successful in maintaining sobriety for the long-term are the ones who remain actively engaged in treatment for all issues (e.g., addiction, co-occurring mental health issues, etc.) for years after transitioning into independent living. This can mean continuing to meet with a personal therapist, attending 12-Step meetings, connecting with other support group options, and engaging in holistic and alternative therapies that are meaningful.
Coping with Withdrawal Symptoms
These are strategies that can be used when coping with any kind of stress. Rather than engaging in maladaptive behaviors, such as drug or alcohol use, individuals who engage in positive coping behaviors will be able to better maintain recovery.
Some coping mechanisms for Suboxone withdrawal symptoms besides medications include:
Social activity: Keeping in touch with close family and friends, even without having to tell them about possible withdrawal symptoms and the recovery process, may help provide you with the emotional support you'll need to make it through detox.
Relaxation time or hobbies: Making time to relax in the midst of everyday life can be hard, but it is absolutely necessary for maintaining recovery. Many who are suffering from withdrawal from Suboxone, or other opioids, may struggle with relaxing in a healthy way, but finding any appealing hobby (writing, art, crafts, etc.) can help you to avoid relapsing back to substance use.
Adapting to the situation: Accept that withdrawal is part of the recovery process. Adopting a more positive outlook to the recovery process could help to replace feelings of shame, anger, and depression with feelings of satisfaction and pride.
Withdrawal may be a difficult process, but it, like most things in life, will not last forever. It is only a temporary condition that can be handled with many coping strategies.

Stress Management

Using Self-Help Techniques for Dealing with Stress

It may seem like there's nothing you can do about stress. The bills won't stop coming, there will never be more hours in the day, and your work and family responsibilities will always be demanding. But you have a lot more control than you might think. In fact, the simple realization that you're in control of your life is the foundation of managing stress. Stress management is all about taking charge: of your lifestyle, thoughts, emotions, and the way you deal with problems. No matter how stressful your life seems, there are steps you can take to relieve the pressure and regain control.

Why is it so important to manage stress?

If you're living with high levels of stress, you're putting your entire well-being at risk. Stress wreaks havoc on your emotional equilibrium, as well as your physical health. It narrows your ability to think clearly, function effectively, and enjoy life.

Effective stress management, on the other hand, helps you break the hold stress has on your life, so you can be happier, healthier, and more productive. The ultimate goal is a balanced life, with time for work, relationships, relaxation, and fun—and the resilience to hold up under pressure and meet challenges head on. But stress management is not one-size-fits-all. That's why it's important to experiment and find out what works best for you. The following stress management tips can help you do that.

Tip 1: Identify the sources of stress in your life

Stress management starts with identifying the sources of stress in your life. This isn't as straightforward as it sounds. While it's easy to identify major stressors such as changing jobs, moving, or a going through a divorce, pinpointing the sources of chronic stress can be more complicated. It's all too easy to overlook how your own thoughts, feelings, and behaviors contribute to your everyday stress levels. Sure, you may know that you're constantly worried about work deadlines, but maybe it's your procrastination, rather than the actual job demands, that is causing the stress.

To identify your true sources of stress, look closely at your habits, attitude, and excuses:

Do you explain away stress as temporary ("I just have a million things going on right now") even though you can't remember the last time you took a breather?
Do you define stress as an integral part of your work or home life ("Things are always crazy around here") or as a part of your personality ("I have a lot of nervous energy, that's all")?
Do you blame your stress on other people or outside events, or view it as entirely normal and unexceptional?

Until you accept responsibility for the role you play in creating or maintaining it, your stress level will remain outside your control.

Start a stress journal

A stress journal can help you identify the regular stressors in your life and the way you deal with them. Each time you feel stressed, keep track of it in your journal. As you keep a daily log, you will begin to see patterns and common themes. Write down:

What caused your stress (make a guess if you're unsure)
How you felt, both physically and emotionally
How you acted in response
What you did to make yourself feel better

Tip 2: Practice the 4 A's of stress management

While stress is an automatic response from your nervous system, some stressors arise at predictable times—your commute to work, a meeting with your boss, or family gatherings, for example. When handling such predictable stressors, you can either change the situation or change your reaction. When deciding which option to choose in any given scenario, it's helpful to think of the four A's: avoid, alter, adapt, or accept.

The four A's – Avoid, Alter, Adapt & Accept
Avoid unnecessary stress
It's not healthy to avoid a stressful situation that needs to be addressed, but you may be surprised by the number of stressors in your life that you can eliminate.
Learn how to say "no." Know your limits and stick to them. Whether in your personal or professional life, taking on more than you can handle is a surefire recipe for stress. Distinguish between the "shoulds" and the "musts" and, when possible, say "no" to taking on too much.
Avoid people who stress you out. If someone consistently causes stress in your life, limit the amount of time you spend with that person, or end the relationship.
Take control of your environment. If the evening news makes you anxious, turn off the TV. If traffic makes you tense, take a longer but less-traveled route. If going to the market is an unpleasant chore do your grocery shopping online.
Pare down your to-do list. Analyze your schedule, responsibilities, and daily tasks. If you've got too much on your plate, drop tasks that aren't truly necessary to the bottom of the list or eliminate them entirely.
Alter the situation
If you can't avoid a stressful situation, try to alter it. Often, this involves changing the way you communicate and operate in your daily life.
Express your feelings instead of bottling them up. If something or someone is bothering you, be more assertive and communicate your concerns in an open and respectful way. If you've got an exam to study for and your chatty roommate just got home, say up front that you only have five minutes to talk. If you don't voice your feelings, resentment will build and the stress will increase.
Be willing to compromise. When you ask someone to change their behavior, be willing to do the same. If you both are willing to bend at least a little, you'll have a good chance of finding a happy middle ground.
Create a balanced schedule. All work and no play is a recipe for burnout. Try to find a balance between work and family life, social activities and solitary pursuits, daily responsibilities and downtime.
Adapt to the stressor
If you can't change the stressor, change yourself. You can adapt to stressful situations and regain your sense of control by changing your expectations and attitude.
Reframe problems. Try to view stressful situations from a more positive perspective. Rather than fuming about a traffic jam, look at it as an opportunity to pause and regroup, listen to your favorite radio station, or enjoy some alone time.
Look at the big picture. Take perspective of the stressful situation. Ask yourself how important it will be in the long run. Will it matter in a month? A year? Is it really worth getting upset over? If the answer is no, focus your time and energy elsewhere.
Adjust your standards. Perfectionism is a major source of avoidable stress. Stop setting yourself up for failure by demanding perfection. Set reasonable standards for yourself and others, and learn to be okay with "good enough."
Practice gratitude. When stress is getting you down, take a moment to reflect on all the things you appreciate in your life, including your own positive qualities and gifts. This simple strategy can help you keep things in perspective.
Accept the things you can't change
Some sources of stress are unavoidable. You can't prevent or change stressors such as the death of a loved one, a serious illness, or a national recession. In such cases, the best way to cope with stress is to accept things as they are. Acceptance may be difficult, but in the long run, it's easier than railing against a situation you can't change.
Don't try to control the uncontrollable. Many things in life are beyond our control—particularly the behavior of other people. Rather than stressing out over them, focus on the things you can control such as the way you choose to react to problems.
Look for the upside. When facing major challenges, try to look at them as opportunities for personal growth. If your own poor choices contributed to a stressful situation, reflect on them and learn from your mistakes.
Learn to forgive. Accept the fact that we live in an imperfect world and that people make mistakes. Let go of anger and resentments. Free yourself from negative energy by forgiving and moving on.
Share your feelings. Expressing what you're going through can be very cathartic, even if there's nothing you can do to alter the stressful situation. Talk to a trusted friend or make an appointment with a therapist.

Tip 3: Get moving

When you're stressed, the last thing you probably feel like doing is getting up and exercising. But physical activity is a huge stress reliever—and you don't have to be an athlete or spend hours in a gym to experience the benefits. Exercise releases endorphins that make you feel good, and it can also serve as a valuable distraction from your daily worries.

While you'll get the most benefit from regularly exercising for 30 minutes or more, it's okay to build up your fitness level gradually. Even very small activities can add up over the course of a day. The first step is to get yourself up and moving. Here are some easy ways to incorporate exercise into your daily schedule:

Put on some music and dance around
Take your dog for a walk
Walk or cycle to the grocery store
Use the stairs at home or work rather than an elevator
Park your car in the farthest spot in the lot and walk the rest of the way
Pair up with an exercise partner and encourage each other as you work out
Play ping-pong or an activity-based video game with your kids

The stress-busting magic of mindful rhythmic exercise

While just about any form of physical activity can help burn away tension and stress, rhythmic activities are especially effective. Good choices include walking, running, swimming, dancing, cycling, tai chi, and aerobics. But whatever you choose, make sure it's something you enjoy so you're more likely to stick with it.

While you're exercising, make a conscious effort to pay attention to your body and the physical (and sometimes emotional) sensations you experience as you're moving. Focus on coordinating your breathing with your movements, for example, or notice how the air or sunlight feels on your skin. Adding this mindfulness element will help you break out of the cycle of negative thoughts that often accompanies overwhelming stress.

Tip 4: Connect to others

There is nothing more calming than spending quality time with another human being who makes you feel safe and understood. In fact, face-to-face interaction triggers a cascade of hormones that counteracts the body's defensive "fight-or-flight" response. It's nature's natural stress reliever (as an added bonus, it also helps stave off depression and anxiety). So make it a point to connect regularly—and in person—with family and friends.

Keep in mind that the people you talk to don't have to be able to fix your stress. They simply need to be good listeners. And try not to let worries about looking weak or being a burden keep you from opening up. The people who care about you will be flattered by your trust. It will only strengthen your bond.

Of course, it's not always realistic to have a pal close by to lean on when you feel overwhelmed by stress, but by building and maintaining a network of close friends you can improve your resiliency to life's stressors.

Tips for building relationships

Reach out to a colleague at work
Help someone else by volunteering
Have lunch or coffee with a friend
Ask a loved one to check in with you regularly
Accompany someone to the movies or a concert
Call or email an old friend
Go for a walk with a workout buddy
Schedule a weekly dinner date
Meet new people by taking a class or joining a club
Confide in a clergy member, teacher, or sports coach

Tip 5: Make time for fun and relaxation

Beyond a take-charge approach and a positive attitude, you can reduce stress in your life by carving out "me" time. Don't get so caught up in the hustle and bustle of life that you forget to take care of your own needs. Nurturing yourself is a necessity, not a luxury. If you regularly make time for fun and relaxation, you'll be in a better place to handle life's stressors.

Set aside leisure time. Include rest and relaxation in your daily schedule. Don't allow other obligations to encroach. This is your time to take a break from all responsibilities and recharge your batteries.

Do something you enjoy every day. Make time for leisure activities that bring you joy, whether it be stargazing, playing the piano, or working on your bike.

Keep your sense of humor. This includes the ability to laugh at yourself. The act of laughing helps your body fight stress in a number of ways.

Take up a relaxation practice. Relaxation techniques such as yoga, meditation, and deep breathing activate the body's relaxation response, a state of restfulness that is the opposite of the fight or flight or mobilization stress response. As you learn and practice these techniques, your stress levels will decrease and your mind and body will become calm and centered.

Tip 6: Manage your time better

Poor time management can cause a lot of stress. When you're stretched too thin and running behind, it's hard to stay calm and focused. Plus, you'll be tempted to avoid or cut back on all the healthy things you should be doing to keep stress in check, like socializing and getting enough sleep. The good news: there are things you can do to achieve a healthier work-life balance.

Don't over-commit yourself. Avoid scheduling things back-to-back or trying to fit too much into one day. All too often, we underestimate how long things will take.

Prioritize tasks. Make a list of tasks you have to do, and tackle them in order of importance. Do the high-priority items first. If you have something particularly unpleasant or stressful to do, get it over with early. The rest of your day will be more pleasant as a result.

Break projects into small steps. If a large project seems overwhelming, make a step-by-step plan. Focus on one manageable step at a time, rather than taking on everything at once.

Delegate responsibility. You don't have to do it all yourself, whether at home, school, or on the job. If other people can take care of the task, why not let them? Let go of the desire to control or oversee every little step. You'll be letting go of unnecessary stress in the process.

Tip 7: Maintain balance with a healthy lifestyle

In addition to regular exercise, there are other healthy lifestyle choices that can increase your resistance to stress.

Eat a healthy diet. Well-nourished bodies are better prepared to cope with stress, so be mindful of what you eat. Start your day right with breakfast, and keep your energy up and your mind clear with balanced, nutritious meals throughout the day.

Reduce caffeine and sugar. The temporary "highs" caffeine and sugar provide often end in with a crash in mood and energy. By reducing the amount of coffee, soft drinks, chocolate, and sugar snacks in your diet, you'll feel more relaxed and you'll sleep better.

Avoid alcohol, cigarettes, and drugs. Self-medicating with alcohol or drugs may provide an easy escape from stress, but the relief is only temporary. Don't avoid or mask the issue at hand; deal with problems head on and with a clear mind.

Get enough sleep. Adequate sleep fuels your mind, as well as your body. Feeling tired will increase your stress because it may cause you to think irrationally.

Tip 8: Learn to relieve stress in the moment

When you're frazzled by your morning commute, stuck in a stressful meeting at work, or fried from another argument with your spouse, you need a way to manage your stress levels right now. That's where quick stress relief comes in.

The fastest way to reduce stress is by taking a deep breath and using your senses—what you see, hear, taste, and touch—or through a soothing movement. By viewing a favorite photo, smelling a specific scent, listening to a favorite piece of music, tasting a piece of gum, or hugging a pet, for example, you can quickly relax and focus yourself. Of course, not everyone responds to each sensory experience in the same way. The key to quick stress relief is to experiment and discover the unique sensory experiences that work best for you.
Quick Stress Relief
Using Your Senses to Relieve Stress on the Spot
Ever wish a stress superhero could save you from the tension of traffic jams, chaotic meetings, arguments with your spouse, or a toddler's tantrums? Well, you can be your own stress-busting superhero. Using your senses, you can tap into the power to reduce the impact of stress as it's happening and stay in control when the pressure builds. Like any skill, learning how to ease stress in the moment takes time, experimentation, and practice, but the payoff is huge. When you know how to quickly relieve stress, you can stay calm, productive, and focused—no matter what life throws at you.
What is the fastest way to relieve stress?
There are countless techniques for managing stress. Yoga, mindfulness meditation, and exercise are just a few examples of stress-relieving activities that work wonders. But in the heat of the moment—during a high-pressured job interview, for example, or a disagreement with your spouse—you can't just excuse yourself to meditate or take a long walk. For these situations, you need something more immediate and accessible.
One of the speediest and most reliable ways to stamp out stress is by engaging one or more of your senses—sight, sound, taste, smell, touch—or through movement. But since everyone is different, you'll need to do some experimenting to discover which technique works best for you.
Talking face-to-face: another rapid stress reducer
Social interaction is your body's most evolved and surefire strategy for regulating the nervous system. Talking face-to-face with a relaxed and caring listener can help you quickly calm down and release tension. Although you can't always have a pal to lean on in the middle of a stressful situation, maintaining a network of close relationships is vital for your mental health. Between sensory-based stress relief and good listeners, you'll have your bases covered.
Tip 1: Recognize when you're stressed
It might seem obvious that you'd know when you're stressed, but many of us spend so much time in a frazzled state that we've forgotten what it feels like when our nervous systems are in balance—when we're calm yet still alert and focused. If this is you, you can recognize when you're stressed by listening to your body. When you're tired, your eyes feel heavy and you might rest your head on your hand. When you're happy, you laugh easily. And when you're stressed, your body lets you know that, too. Get in the habit of paying attention to your body's clues.
Observe your muscles and insides. Are your muscles tense or sore? Is your stomach tight, cramped, or aching? Are your hands or jaw clenched?
Observe your breath. Is your breathing shallow? Place one hand on your belly, the other on your chest. Watch your hands rise and fall with each breath. Notice when you breathe fully or when you "forget" to breathe.
Tip 2: Identify your stress response
Internally, we all respond to the "fight-or-flight" stress response the same: your blood pressure rises, your heart pumps faster, and your muscles constrict. Your body works hard and drains your immune system. Externally, however, people respond to stress in different ways.
The best way to quickly relieve stress often relates to your specific stress response:
Overexcited stress response – If you tend to become angry, agitated, overly emotional, or keyed up under stress, you will respond best to stress relief activities that quiet you down.
Underexcited stress response – If you tend to become depressed, withdrawn, or spaced out under stress, you will respond best to stress relief activities that are stimulating and energizing.
The immobilization or "frozen" stress response
Do you freeze when under stress? The immobilization stress response is often associated with a past history of trauma. When faced with stressful situations, you may find yourself totally stuck and unable to take action. Your challenge is to break free of your "frozen" state by rebooting your nervous system and reactivating the body's natural "fight-or-flight" stress response. Physical movement that engages both your arms and legs, such as walking, swimming, running, dancing, climbing, or tai chi, can be particularly helpful. As you move, focus on your body and the sensations you feel in your limbs rather than on your thoughts. This mindfulness element can help your nervous system become "unstuck" and move on.
Tip 3: Bring your senses to the rescue
To use your senses to quickly relieve stress, you first need to identify the sensory experiences that work best for you. This can require some experimentation. As you employ different senses, note how quickly your stress levels drop. And be as precise as possible. What is the specific kind of sound or type of movement that affects you the most? For example, if you're a music lover, listen to many different artists and types of music until you find the song that instantly lifts and relaxes you.
Explore a variety of sensory experiences so that no matter where you are you'll always have something you can do to relieve stress.
The examples listed below are intended to be a jumping-off point. Let your mind run free and come up with additional things to try. When you find the right sensory technique, you'll know it!
Sight
Look at a cherished photo or a favorite memento.
Use a plant or flowers to enliven your work space.
Enjoy the beauty of nature—a garden, the beach, a park, or your own backyard.
Surround yourself with colors that lift your spirits.
Close your eyes and picture a place that feels peaceful and rejuvenating.
Smell
Light a scented candle or burn some incense.
Experiment with different essential oils.
Smell the roses—or another type of flower.
Enjoy clean, fresh air in the great outdoors.
Spritz on your favorite perfume or cologne.
Touch
Wrap yourself in a warm blanket.
Pet a dog or cat.
Hold a comforting object (a stuffed animal, a favorite memento).
Give yourself a hand or neck massage.
Wear clothing that feels soft against your skin.
Taste
Slowly savoring a favorite treat can be very relaxing, but mindless eating will only add to your stress and your waistline. The key is to indulge your sense of taste mindfully and in moderation.
Chew a piece of sugarless gum.
Indulge in a small piece of dark chocolate.
Sip a steaming cup of coffee or tea or a refreshing cold drink.
Eat a perfectly ripe piece of fruit.
Enjoy a healthy, crunchy snack (celery, carrots, or trail mix).
Movement
If you tend to shut down when you're under stress or have experienced trauma, stress-relieving activities that get you moving may be particularly helpful.
Run in place or jump up and down.
Dance around.
Stretch or roll your head in circles.
Go for a short walk.
Squeeze a rubbery stress ball.
Sound
Sing or hum a favorite tune. Listen to uplifting music.
Tune in to the soundtrack of nature—crashing waves, the wind rustling the trees, birds singing.
Buy a small fountain, so you can enjoy the soothing sound of running water in your home or office.
Hang wind chimes near an open window.
Vocal toning
As strange as it may sound, vocal toning is a special technique that reduces the stress hormones adrenaline and cortisol. Try sneaking off to a quiet place to spend a few minutes toning before a meeting with your boss and see how much more relaxed and focused you feel. It works by exercising the tiny muscles of the inner ear that help you detect the higher frequencies of human speech that impart emotion and tell you what someone is really trying to say. Not only will you feel more relaxed in that meeting with your boss, you'll also be better able to understand what he's trying to communicate.
How to tone
Sit up straight and simply make "mmmm" sounds with your lips together and teeth slightly apart. Experiment by changing the pitch and volume until you experience a pleasant vibration in your face and, eventually, your heart and stomach.
Tip 4: Find sensory inspiration
Having trouble identifying sensory techniques that work for you? Look for inspiration around you, from the sights you see as you go about your day to memories from your past.
Memories. Think back to what you did as a child to calm down. If you had a blanket or stuffed toy, you might benefit from tactile stimulation. Try tying a textured scarf around your neck before an appointment or keeping a piece of soft suede in your pocket.
Watch others. Observing how others deal with stress can give you valuable insight. Baseball players often pop gum before going up to bat. Singers often chat up the crowd before performing. Ask around about what people you know do to stay focused under pressure.
Parents. Think back to what your parents did to blow off steam. Did your mother feel more relaxed after a long walk? Did your father do yard work after a hard day?
The power of imagination. Once drawing upon your sensory toolbox becomes habit, try simply imagining vivid sensations when stress strikes. The memory of your baby's face will have the same calming or energizing effects on your brain as seeing her photo. When you can recall a strong sensation, you'll never be without a quick stress relief tool.
Take a break from technology
Taking a short hiatus from the television, computer, and cell phone will give you insight on what your senses respond to best.
Try tuning into relaxing music instead of talk radio during your commute. Or try riding in silence for 10 minutes.
Stuck in a long line at the grocery store? Instead of talking on your phone, take a moment to people watch. Pay attention to what you hear and see.
Instead of checking email while waiting for a meeting, take a few deep breaths, look out the window, or sip some tea.
While waiting for an appointment, resist the urge to text and give yourself a hand massage instead.
Tip 5: Make quick stress relief a habit
It's not easy to remember to use your senses in the middle of a mini—or not so mini—crisis. At first, it will feel easier to just give into pressure and tense up. But with time, calling upon your senses will become second nature. Think of it as like learning to drive or play golf. You don't master the skill in one lesson; you have to practice until it becomes second nature. Eventually you'll feel like you're forgetting something if you don't tune into your body during challenging times. Here's how to make it habit:
Start small. Instead of testing your quick stress relief tools on a source of major stress, start with a predictable low-level source of stress, like cooking dinner at the end of a long day or sitting down to pay bills.
Identify and target. Think of just one low-level stressor that you know will occur several times a week, such as commuting. Vow to target that stressor with quick stress relief every time. After a few weeks, target a second stressor and so on.
Test-drive sensory input. If you are practicing quick stress relief on your commute to work, bring a scented handkerchief with you one day, try music another day, and try a movement the next day. Keep experimenting until you find a clear winner.
Have fun with the process. If something doesn't work, don't force it. Move on until you find what works best for you. It should be pleasurable and noticeably calming.
Talk about it. Telling friends or family members about the stress-relief strategies you're trying out will help you integrate them into your life. As an added bonus, it's bound to start an interesting conversation: everyone relates to the topic of stress.
Tip 6: Practice wherever you are
The best part of sensory-based strategies is the awareness that you have control. No matter where you are or what you're doing, quick stress relief is within arm's reach.
Quick stress relief at home
Entertaining. Prevent pre-party jitters by playing lively music. Light candles. The flicker and scent will stimulate your senses. Wear clothes that make you feel relaxed and confident.
Kitchen. Ease kitchen stress by breathing in the scent of every ingredient. Delight in the delicate texture of an eggshell. Appreciate the weight of an onion.
Children and relationships. Prevent losing your cool during a spousal spat by squeezing the tips of your thumb and forefinger together. When your toddler has a tantrum, rub lotion into your hands and breathe in the scent.
Sleep. Too stressed to snooze? Try using a white noise machine for background sound or a humidifier with a diffuser for a light scent in the air.
Creating a sanctuary. If clutter is upsetting, spend 10 minutes each day to tidy. Display photos and images that make you feel happy. Throw open the curtains and let in natural light.
Quick stress relief at work
Meetings. During stressful sessions, stay connected to your breath. Massage the tips of your fingers. Wiggle your toes. Sip coffee.
On the phone. Inhale something energizing, like lemon, ginger, peppermint. While talking, stand up or pace back and forth to burn off excess energy, or take calls outside when possible.
On the computer. Work standing up. Do knee-bends in 10-minute intervals. Suck on a peppermint. Sip tea.
Lunch breaks. Take a walk around the block or in the parking lot. Listen to soothing music while eating. Chat to a colleague.
Your workspace. Place family photos on your desk or mementos that remind you of your life outside the office.
Quick stress relief on the go
In traffic. Play music or listen to an audiobook. Take a different route to see something new. Do neck-rolls at stoplights. Sing in the car to stay awake and happy.
Public transportation. Take a break from reading, cell conversations, and music and tune into the sights and sounds around you. Try noticing something new even if it's the same old bus ride.
Running errands. Wear a special perfume or lotion so you can enjoy it while you rush from place to place. Carry a stress ball in your pocket. Take a mental "snapshot" or "postcard" at each destination.
Waiting in lines. Instead of worrying about time slipping away, focus on your breathing. People watch. Chat with the person ahead of you. Chew a stick of minty gum.

NOVA Health Recovery  <<< Ketamine Treatment Center Fairfax, Virginia

CAll 703-844-0184 for an immediate appointment to evaluate you for a Ketamine infusion:

Ketaminealexandria.com    703-844-0184 Call for an infusion to treat your depression. PTSD, Anxiety, CRPS, or other pain disorder today.

email@novahealthrecovery.com  << Email for questions to the doctor

Ketamine center in Fairfax, Virginia    << Ketamine infusions

Ketamine – NOVA Ketamine facebook page – ketamine treatment for depression

facebook Ketamine page

NOVA Health Recovery  << Ketamine clinic Fairfax, Va  – Call 703-844-0184 for an appointment – Fairfax, Virginia

Ketamine Consultants Blog

Ketamine Virginia = Ketamine IV Drip Doctors

The IV Medical Center - IV Vitamin Drips for wellness and recovery