NOVA Addiction Specialists website – Suboxone and telemedicine treatment in Alexandria, Virginia 703-844-0184

Dr. Sendi – at NOVA Addiction Specialists can evaluate you to see if Sublocade will work for you.

NOVA Health Recovery    <<, Suboxone treatment and Ketamine treatment

NOVA Addiction facebook page

Suboxone treatment in Alexandria, Virginia 703-844-0184

Suboxone treatment in Fairfax, Virginia 703-844-0184

https://suboxonewoodbridge.com

Suboxone, buprenorphine telemedicine treatment in Alexandria  << Link here

http://addictiondomain.com/ Addiction Blog

https://www.facebook.com/novaddiction – Facebook page

http://www.suboxonealexandria.com

http://www.suboxonecenter.org/ Suboxone treatment – telemedicine also – 703-844-0184 24/7

Ketamine story - Ketamine infusions for Depression - Insanemedicine.com

Suboxone Virginia

British Study Shows Cannabis Use Adversely Affects Individuals With Early Psychosis   < Psychiatry advisor article Link
Cannabis use in patients with early psychosis is a risk factor for relapse, a higher number of re-hospitalizations, and longer length of stay (LOS) in hospital, particularly in black male patients, according to study results published in Psychiatry Research.
Marco Colizzi, MD, of the National Institute for Health Research, Biomedical Research Centre, South London and Maudsley NHS Foundation Trust, and the department of psychosis studies, Institute of Psychiatry, Psychology and Neuroscience, King's College London, United Kingdom, and colleagues, conducted a chart review study at the Early Intervention Inpatient Unit of the South London and Maudsley NHS Foundation Trust, an inpatient facility that specializes in the care of individuals between the age of 18 and 35 experiencing a first episode of psychosis. All consecutive admissions to the facility in 2010 were included in the study. Patients with suspected or known acute substance intoxication or an organic cause for psychosis were excluded. Patients were followed for 6 years after initial inpatient admission. The investigators used negative binomial regressions to test for an effect of baseline cannabis use on the number of hospital readmissions and LOS during the 6-year follow-up period.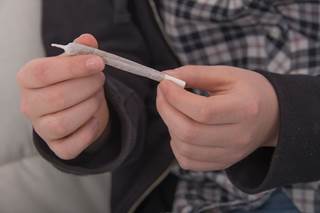 The study included 161 patients, 13 of whom (8.1%) had a second admission and 1 (0.6%) had a third within the same calendar year. Males made up 61% of the study population, whites 28%, black Africans/Caribbeans 50.7%, Asians 13.3%, and mixed ancestry 8%. Information on cannabis use was available for 141 of these patients. The researchers noted that 62.4% of patients had a lifetime history of cannabis use, 61.2% were tobacco users, 64.5% alcohol users, and 38.5% stimulant users. Their initial hospitalization lasted an average of 54.3 days, and over the following 6 years patients had an average of 2.2 hospital readmissions for a total of 197.4 days.
The analysis suggested that cannabis use significantly predicts the number of hospital readmissions over the 6-year follow-up period (P =.029). However, a further negative binomial regression that adjusted for the use of other psychoactive substances, as well as sociodemographic and other clinical characteristics at baseline, did not find significance for the effect of cannabis on the number of hospital readmissions (P =.072). A significant effect for cannabis use on LOS over the 6-year follow-up was also found (P =.001), and this remained significant even after adjusting for the use of other psychoactive substances (P =.044).
Other exploratory analyses looked at the effect of gender and ethnicity on the number of hospital readmissions and found a significant interaction between cannabis use and male gender on LOS (P =.034) and between lifetime cannabis use and the number of hospital readmissions over the follow-up period in patients of Afro-Caribbean origin (P =.049).
The investigators suggest that cannabis may have detrimental effects on psychosocial factors such as employment, quality of life, and on physical health, which may affect hospitalizations. They noted as well that experimental studies have shown that the primary psychoactive ingredient in cannabis can induce psychotic symptoms in otherwise healthy individuals.
Colizzi M, Burnett N, Cost R, de Agostini M, Griffin J, Bhattacharyya S. Longitudinal assessment of the effect of cannabis use on hospital readmission rates in early psychosis: a 6-year follow-up in an inpatient cohort [published online August 2, 2018]. Psychiatry Res. doi:10.1016/j.psychres.2018.08
Longitudinal assessment of the effect of cannabis use on hospital readmission rates in early psychosis A 6-year follow-up in an inpatient cohort   < Article
________________________________________________
HealthDay News — Cannabis use is associated with psychosis symptoms (PS) during adolescence, according to a research letter published online June 6 in JAMA Psychiatry.
Josiane Bourque, from the University of Montreal, and colleagues examined year-to-year associations between cannabis use and PS over four years among 3,720 adolescents who completed confidential annual surveys from age 13 to 16 years. A multilevel approach was used to test for within-person differences that inform on the extent to which increased cannabis use precedes an increase in PS and vice versa.
The researchers first tested a basic model containing only autoregressive paths, random intercepts, and within-time correlations across variables; this was followed by testing a transactional model that also contained cross-lagged correlations. The transaction model was favored in the Χ²-difference test. Statistically significant positive cross-lagged associations were revealed at every time point from cannabis use to PS reported 12 months later in the transactional model, exceeding the random intercepts of cannabis use and PS. These correlations were similar in size to the autoregressive link between PS from ages 15 to 16. There was a statistically significant association for PS at age 15 years with cannabis use at age 16 years.
"This analysis demonstrates a predominant association at the individual level of cannabis use frequency with increased PS, and not the opposite, in the general population at a developmental stage when both phenomena have their onset," the authors write.
Association of Cannabis Use With Adolescent Psychotic Symptoms
This analysis demonstrates a predominant association at the individual level of cannabis use frequency with increased PS (psychotic symptoms), and not the opposite, in the general population at a developmental stage when both phenomena have their onset. One limitation was that cannabis use and PS were not confirmed with clinician or collateral reports. However, previous work has shown positive predictive values ranging from 80% to 100% from 3 self-report items to identify interview-verifiable PS.5Furthermore, self-report is the most efficient way to assess substance use when there are no consequences to reporting because collateral reports and biologic measures are not sensitive to the sporadic nature of adolescent substance use.6
Considering that PS are associated with risk for psychosis, as well as nonpsychotic disorders, these results emphasize the need for targeted cannabis use prevention as jurisdictions revise their cannabis regulatory policies. Promoting evidence-based interventions and policies that reduce access to and demand for cannabis among youth could lead to population-based reductions in risk for major psychiatric conditions.
_________________________________________________________________________________________
Patients who use medical marijuana may be more likely to use prescription drugs for both medical and nonmedical purposes, according to results published in the Journal of Addiction Medicine.
Previous studies found evidence that medical marijuana use reduces medical and nonmedical prescription drug use, but these new results contradict that hypothesis. The results highlight the need to target medical marijuana users in an effort to reduce nonmedical prescription drug use.
The study used simulations based on logistic regression analyses of data from the 2015 National Survey on Drug Use and Health. The researchers computed associations with adjusted risk ratios controlling for age, sex, race, health status, family income, and living in a state with legalized medical marijuana.
The results indicated that medical marijuana users were significantly more likely to report medical use of prescription drugs in the past 12 months compared with those who did not use medical marijuana (relative risk [RR], 1.62; 95% CI, 1.50-1.74).
People who used medical marijuana were also more likely to report nonmedical use of any prescription drug in the previous 12 months compared with people who did not use medical marijuana (RR, 2.12; 95% CI, 1.67-2.62). This risk was even more pronounced for pain relievers (RR, 1.95; 95% CI, 1.41-2.62), stimulants (RR, 1.86; 95% CI, 1.09-3.02), and tranquilizers (RR, 2.18; 95% CI, 1.45-3.16).
REFERENCE
Caputi TL, Humphreys K. Medical marijuana users are more likely to use prescription drugs medically and nonmedically. [published online April 17, 2018] J Addict Med. doi:10.1097/ADM.0000000000000405
Medical Marijuana Users are More Likely to Use Prescription Drugs Medically and Nonmedically  << Article link
__________________________________________________________________________
According to data from the Centers for Disease Control and Prevention, deaths from drug overdose have continued to increase in the United States in recent years, with more 600,000 reported from 2000 to 2016.1 Prescription opioids have been identified as a key factor driving this surge; approximately 63% of the 52,404 overdose deaths in 2015 involved an opioid.2
Various strategies have been introduced to address this crisis, including implementation of the CDC Guideline for Prescribing Opioids for Chronic Pain, as well as efforts to improve prescription drug monitoring programs and access to treatment for opioid use disorder. In the ongoing search for solutions, it has been suggested that access to medical cannabis may lead to a reduction in opioid use for pain management.3
n an analysis published in 2014, a 21% reduction in mean annual opioid overdose mortality was found in states with legalized medical cannabis.4 Other findings show that the use of prescriptions for numerous conditions decreased following the legalization of medical cannabis, but the greatest reduction was observed for medications indicated for pain treatment.5
Although these results may seem to support a link between increased access to cannabis and a reduction in prescription opioid use, findings from a study published in 2018 found otherwise (although this investigation focused on cannabis generally rather than legalized medical cannabis).6Researchers at Columbia University Medical Center and the National Institute on Drug Abuse used logistic regression models to analyze data from wave 1 (2001-2002) and wave 2 (2004-2005) of the National Epidemiologic Survey on Alcohol and Related Conditions.
Their analysis of more than 34,000 US adults revealed associations between cannabis use at wave 1 and increased use of nonmedical prescription opioids (odds ratio [OR], 5.78; 95% CI, 4.23-7.90) and opioid use disorder (OR, 7.76, 95% CI, 4.95-12.16) at wave 2, which remained significant after controlling for background characteristics of participants, including age, sex, anxiety or mood disorders, and family history of substance abuse.
Although these results do "not resolve the debate about associations between medical cannabis use, use of prescription opioids, and risks of opioid overdose mortality…. (t)he study is nonetheless an important contribution that balances the state-level analyses with individual level data," wrote Dennis McCarty, PhD, a professor of public health and preventive medicine at Oregon Health & Science University, in an editorial about the study that appeared in the same issue of the American Journal of Psychiatry.3 He pointed to the large dataset and consistency of participants across waves as strengths of the study, and he cited the dated and self-reported nature of the data, as well as the lack of differentiation between medical and nonmedical cannabis use, as limitations.
"The contrasting associations from the state-level and the person-level analyses should serve as a caution to eager advocates and puzzled policymakers. It is too soon for science to provide definitive guidance," added Dr McCarty.
"It is time, therefore, in states where cannabis use is authorized for adults, to build patient registries of cannabis use that link with medical records so that it is feasible to assess morbidity and mortality associated with the frequency, duration, and method [of use]," he wrote.
To further explore the implications of the new findings, Psychiatry Advisor interviewed Mark Olfson, MD, professor of psychiatry at Columbia University Medical Center, who is one of the authors of the study.6
Psychiatry Advisor: What are the top takeaways from your study?
Dr Olfson: As compared with adults who did not smoke marijuana, those who smoked marijuana were found 3 years later to be almost 6 times more likely to misuse prescription opioids and almost 8 times more likely to have an opioid use disorder. Even though [opioid problems did not develop in] most people who smoked marijuana at the start of the study, those who did were at a significantly higher risk [for these problems] developing than were those who did not smoke marijuana. Contrary to some previous reports that were based on population-level patterns, we found that marijuana use tends to increase rather than decrease the risk for prescription opioid use abuse or dependence.
Psychiatry Advisor: What are the overall treatment implications for mental health and pain clinicians?
Dr Olfson: We found that cannabis use, even among adults with moderate or severe pain, was associated with a substantially increased risk for problematic prescription opioid use 3 years later. Although this study was not designed to directly address questions over the appropriate role of medical marijuana in the management of chronic medical pain conditions, the results nevertheless suggest that pain specialists should consider vulnerabilities to addiction when deciding whether to recommend medical marijuana for their patients with persistent pain.
Psychiatry Advisor: What should be the focus of future research in this area?
Dr Olfson: We're currently working on trying to understand precursors to fatal opioid overdoses. We're focusing on trying to identify characteristics of patients with non-fatal opioid overdoses who are at the highest short-term risk for overdose death so that more can be done to interrupt this dangerous course by making active efforts to engage them in medication-assisted treatment.
REFERENCES
________________________________________________________________________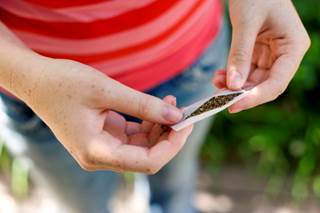 Young adults who used cannabis 2 to 3 times per week were shown to be at increased risk for hypomania at age 22 to 23 years, according to the results of a recent study published in Schizophrenia Bulletin.
Participants from a UK birth cohort were assessed for frequency of cannabis use at age 17. In this study, cannabis use 2 to 3 times per week was considered frequent use. At age 22 to 23 years, participants responded to a postal survey that included the Hypomania Checklist Questionnaire-32 to evaluate manic symptoms.
Information about depression symptoms, psychotic symptoms, childhood abuse, and substance use were collected at various times throughout the participants' lives. The association among these variables, hypomania, and cannabis use were assessed using path analysis.
After adjustment, frequent cannabis use was associated with subsequent hypomania (odds ratio [OR] 2.21). Weekly cannabis use (OR 2.87) was more strongly associated with hypomania compared with any cannabis use (OR 1.82).
In unadjusted analyses, frequent cannabis use was significantly associated with an increased risk for depression (OR 2.48) and psychotic symptoms (OR 3.33).  Frequent Cannabis Use Associated With Increased Likelihood of MDD
In path analysis, cannabis use correlated well with subsequent hypomania after controlling for all pathways. Depression and psychotic symptoms did not mediate the association between hypomania and cannabis use. The association of subsequent hypomania with gender and childhood abuse were significantly mediated by cannabis use.
The study authors concluded that, "adolescent cannabis use is an independent risk factor for future hypomania, and the nature of the associations found is suggestive of a causal link, [al]though the gold standard for inferring causality of course remains intervention."
REFERENCE
Marwaha S, Winsper C, Bebbington P, Smith D. Cannabis use and hypomania in young people: a prospective analysis [published online November 28, 2017]. Schizophr Bull. doi:10.1093/schbul/sbx158
Cannabis Use and Hypomania in Young People A Prospective Analysis
___________________________________________________________________________
After controlling for predisposing factors, frequent cannabis use was shown to be associated with an increased risk for major depressive disorder (MDD) and suicidal ideation, according to a recent twin study published in Lancet Psychiatry.
In this retrospective analysis, same-sex twin pairs (n=13,896; 6181 monozygotic and 7805 dizygotic) from the Australian Twin Registry were evaluated for associations between cannabis use patterns and MDD, suicidal ideation, and suicide plans or attempts. Samples were broken down into 1992 through 1993 (sample 1), 1996 through 2000 (sample 2), and 2005 through 2009 (sample 3). Association analyses were done in the full sample as well as in pairs of twins discordant for cannabis use at a single time point.
Cannabis use was highest in sample 3 (69.0%, n=2275/3299) followed by sample 2 (59.8%, n=3741/6255) and sample 1 (30.4%, n=1345/4432). Among cannabis users, early use (prior to 18 years for sample 1 and prior to 17 years for samples 2 and 3) and frequent use (≥100 times) were found in 21.3% and 15.9% of sample 1, 23.1% and 27.9% of sample 2, and 37.7% and 21.9% of sample 3.
Suicidal ideation was noted in 24.9% of sample 1, 26.3% of sample 2, and 26.2% of sample 3. MDD was found in 20.3% of sample 1, 28.3% of sample 2, and 24.7% of sample 3. After adjusting for covariates including sex, age, early alcohol or nicotine use, early dysphoric or anhedonic mood, conduct disorder, and childhood sexual abuse, monozygotic twins who used cannabis frequently had a higher risk for MDD (odds ratio [OR]: 1.98, 95% confidence interval [CI]: 1.11-3.53) and suicidal ideation (OR: 2.47, CI: 1.19-5.10) compared with the monozygotic twins who used cannabis less frequently.
After adjustment, early cannabis use was not significantly associated with MDD or suicidal thoughts and behaviors within monozygotic twins (OR: 1.17-2.00) but was within dizygotic twins (OR: 2.23-6.50). According to study authors, this may be indicative of shared genetic factors contributing to the association.
The study authors concluded that they were "unable to exclude the possibility that frequent cannabis use might increase risks for MDD and suicidal ideation, independent of shared predisposing influences." They noted the importance of understanding this potential susceptibility, particularly "against the backdrop of evidence supporting a role of the endocannabinoid system in mood regulation."
REFERENCE
Agrawal A, Nelson EC, Bucholz KK, et al. Major depressive disorder, suicidal thoughts and behaviours, and cannabis involvement in discordant twins: a retrospective cohort study. Lancet Psychiatry. 2017;4:706-714.
Major depressive disorder, suicidal thoughts and behaviours, and cannabis involvement in discordant twins a retrospective cohort study.
__________________________________________________________________________
Frequent cannabis users enrolled in a Medication-Assisted Treatment for opioid addiction exhibit greater associations between pain and negative affects (anxiety and depression) compared with less-frequent users, according to findings from a study published in Addictive Behaviors.
Investigators sought to determine whether frequency of cannabis use had an effect on the relationship between pain and depression and/or anxiety in 150 participants treated for opioid use disorder with Medication-Assisted Treatment. The most frequent mental health diagnoses in the patient cohort were major depression (36.7%), bipolar disease (20.0%), and generalized anxiety (17.3%).
Levels of anxiety, depression, and pain were similar in study participants who had used cannabis in the last month and in nonusers. A positive relationship between depression and pain intensity was established in individuals reporting cannabis use for a period of 1 to 2 days (P =.01; 95% CI, 0.04-0.28), 20 to 29 days (P <.001; 95% CI, 0.24-0.60), and 30 days (P <.001; 95% CI, 0.26-0.70) in the last month.
The frequency of cannabis use was found to moderate the relationship between anxiety and pain intensity in participants using cannabis in the last month for 1 to 2 days (P =.003; 95% CI, 0.11-0.35), 20 to 29 days (P <.001; 95% CI, 0.28-0.66), and 30 days (P <.001; 95% CI, 0.29-0.76). The relationship between anxiety and pain intensity was found to increase with the frequency of cannabis use.
Because this cross-sectional study relied on self-reported data for cannabis use frequency, the investigators note it does not establish a causal relationship between the frequency of cannabis use and the association between pain and negative affect.
This study shows that frequent cannabis use among patients receiving Medication-Assisted Treatment "may be interfering with patients' ability to disentangle symptoms of pain and emotional distress," underscoring "an important discrepancy between patients' positive beliefs about the role of cannabis in symptom management and the more complicated detrimental influence cannabis may have on symptom entanglement."
REFERENCE
__________________________________________________________________________
A study published in Molecular Psychiatryindicates a likely causal relationship between cannabis use and increased risk for schizophrenia.1
The study, conducted by researchers from the Department of Internal Medicine at the University Hospital of Lausanne in Switzerland, built on already existing studies depicting a positive, dose-dependent association between cannabis use and schizophrenia risk, particularly in younger populations.2
"[A]ny causal link between cannabis use and psychotic disorders remains controversial as observational findings can always be hampered by confounding…and/or reverse causality bias," Julian Vaucher, MD, and colleagues wrote. "Moreover, cannabis use is strongly associated with tobacco consumption and…smoking could confound the link between cannabis and schizophrenia."
To assess causality, the researchers opted to use a genetic approach. Using genetic and self-report data on lifetime use of cannabis and a lifetime diagnosis of schizophrenia from 34,241 cases and 45,604 controls from populations of predominantly European descent, they tested the robustness of the relationship between lifetime cannabis use and schizophrenia while controlling for 10 genotypes that have been weakly associated with lifetime use of cannabis in genome-wide association studies.
They learned that the association between lifetime cannabis use and schizophrenia persisted for most of the 10 genotypes. The pooled estimate of the association for these 10 genotypes (OR, 1.37; 95% CI, 1.09-1.67) was different from the null value, and it did not differ from the pooled estimate of the relationship in epidemiological studies (OR, 1.43; 95% CI, 1.19-1.67). They also found that these relationships persisted after controlling for genetic associations between cigarette and cannabis smoking, making it unlikely that cigarette smoking was a potential confounding variable.
Because this Mendelian randomization used genotypic data to simulate the effects of conducting a randomized controlled trial, it confirmed the hypothesis that cannabis use is likely to increase the risk for schizophrenia. "As cannabis is the leading drug of misuse, this finding is timely to draw attention to the potential mental health consequences of cannabis use and to provide more robust scientific evidence to inform the public health debate on cannabis legalization," the authors wrote.
REFERENCES
___________________________________________________________________
ABSTRACT
BACKGROUND: One of the major mechanisms for terminating the actions of the endocannabinoid anandamide is
hydrolysis by fatty acid amide hydrolase (FAAH), and inhibitors of the enzyme were suggested as potential treatment
for human cannabis dependence. However, the status of brain FAAH in cannabis use disorder is unknown.
METHODS: Brain FAAH binding was measured with positron emission tomography and [11C]CURB in 22 healthy
control subjects and ten chronic cannabis users during early abstinence. The FAAH genetic polymorphism
(rs324420) and blood, urine, and hair levels of cannabinoids and metabolites were determined.
RESULTS: In cannabis users, FAAH binding was significantly lower by 14%–20% across the brain regions examined
than in matched control subjects (overall Cohen's d 5 0.96). Lower binding was negatively correlated with
cannabinoid concentrations in blood and urine and was associated with higher trait impulsiveness.
CONCLUSIONS: Lower FAAH binding levels in the brain may be a consequence of chronic and recent cannabis
exposure and could contribute to cannabis withdrawal. This effect should be considered in the development of novel
treatment strategies for cannabis use disorder that target FAAH and endocannabinoids. Further studies are needed
to examine possible changes in FAAH binding during prolonged cannabis abstinence and whether lower FAAH
binding predates drug use.
______________________________________________________
ABSTRACT
Associations between cannabis use and psychotic outcomes are consistently reported, but establishing causality from observational designs can be problematic. We review the evidence from longitudinal studies that have examined this relationship and discuss the epidemiologic evidence for and against interpreting the findings as causal. We also review the evidence identifying groups at particularly high risk of developing psychosis from using cannabis. Overall, evidence from epidemiologic studies provides strong enough evidence to warrant a public health message that cannabis use can increase the risk of psychotic disorders. However, further studies are required to determine the magnitude of this effect, to determine the effect of different strains of cannabis on risk, and to identify high-risk groups particularly susceptible to the effects of cannabis on psychosis. We also discuss complementary epidemiologic methods that can help address these questions.
_______________________________________________________________
ABSTRACT
The past few decades have seen a marked change in the composition of commonly smoked cannabis. These
changes primarily involve an increase of the psychoactive compound Δ9
-tetrahydrocannabinol (THC) and a decrease
of the potentially therapeutic compound cannabidiol (CBD). This altered composition of cannabis may be linked to
persistent neuroanatomic alterations typically seen in regular cannabis users. In this review, we summarize recent
findings from human structural neuroimaging investigations. We examine whether neuroanatomic alterations are 1)
consistently observed in samples of regular cannabis users, particularly in cannabinoid receptor–high areas, which
are vulnerable to the effects of high circulating levels of THC, and 2) associated either with greater levels of cannabis
use (e.g., higher dosage, longer duration, and earlier age of onset) or with distinct cannabinoid compounds (i.e., THC
and CBD). Across the 31 studies selected for inclusion in this review, neuroanatomic alterations emerged across
regions that are high in cannabinoid receptors (i.e., hippocampus, prefrontal cortex, amygdala, cerebellum). Greater
dose and earlier age of onset were associated with these alterations. Preliminary evidence shows that THC
exacerbates, whereas CBD protects from, such harmful effects. Methodologic differences in the quantification of
levels of cannabis use prevent accurate assessment of cannabis exposure and direct comparison of findings across
studies. Consequently, the field lacks large "consortium-style" data sets that can be used to develop reliable
neurobiological models of cannabis-related harm, recovery, and protection. To move the field forward, we encourage
a coordinated approach and suggest the urgent development of consensus-based guidelines to accurately and
comprehensively quantify cannabis use and exposure in human studies.
The reviewed literature demonstrates that regular exposure to
cannabis is associated with neuroanatomic alterations in
several brain regions, most consistently within the hippocampus
(reduced volumes and gray matter density, altered
shape), followed by the amygdala and striatum, orbitofrontal PFC alterations. These trends (i.e., hippocampal volumetric
reduction) were previously observed (47), although there is
now increasing evidence for alteration within other regions
(i.e., striatum, orbitofrontal cortx, parietal cortex, insular cortex,
cerebellum). There was also preliminary evidence that neuroanatomic
alterations within the hippocampus, cerebellum,
prefrontal, and lingual regions were associated with THC and
CBD levels specifically, suggestive of an adverse effect of THC
and a protective effect of CBD (from THC-related damage).Neuroanatomic abnormalities were most reliably found in
regions that have a high concentration of cannabinoid type 1
receptors, to which THC binds to exert its psychoactive
effects (31). Cannabis plants that are typically used for drug
production have high levels of THC (17%–20%) (73) but low
levels of CBD (1). According to preclinical findings, THC
accumulates in neurons (74) and with chronic exposure
becomes neurotoxic (18). Neuroanatomic abnormalities may
result from the adverse effects of direct and chronic exposure
to high levels of THC found in commonly available "street"
cannabis. Although CBD may be neuroprotective (24,25) and
mitigate the adverse effects of THC (47,85), it is seldom found
in high levels (1). As one of the regions of highest density of
cannabinoid type 1 receptors (3), damage to the hippocampus
may be related to THC-induced neurotoxicity.
__________________________________________________________________________
Abstract
Cannabis use has been associated with impaired cognition during acute intoxication as well as in the unintoxicated state in long-term users. However, the evidence has been mixed and contested, and no
systematic reviews of the literature on neuropsychological task-based measures of cognition have been conducted in an attempt to synthesize the findings. We systematically review the empirical research published in the past decade (from January 2004 to February 2015) on acute and chronic effects of cannabis and
cannabinoids and on persistence or recovery after abstinence. We summarize the findings into the major categories of the cognitive domains investigated, considering sample characteristics and associations with various cannabis use parameters. Verbal learning and memory and attention are most consistently impaired by
acute and chronic exposure to cannabis. Psychomotor function is most affected during acute intoxication, with some evidence for persistence in chronic users and after cessation of use. Impaired verbal memory, attention, and some executive functions may persist after prolonged abstinence, but persistence or recovery
across all cognitive domains remains underresearched. Associations between poorer performance and a range
of cannabis use parameters, including a younger age of onset, are frequently reported. Little further evidence has emerged for the development of tolerance to the acutely impairing effects of cannabis. Evidence for potential protection from harmful effects by cannabidiol continues to increase but is not definitive. In light of
increasing trends toward legalization of cannabis, the knowledge gained from this body of research needs to be incorporated into strategies to minimize harm.
Cross-sectional studies report persistent impairing effects
on some aspects of attention, verbal and working memory,
and psychomotor speed in adolescents abstinent for 28 days
(65) and 35 days (67), but not on other aspects of these and
other cognitive domains. Poor performance was associated
with lifetime cannabis exposure (65) or an earlier age of use
onset in adolescents with 30 days of abstinence (95) and
predicted relapse to cannabis use during a 1-year follow-up
(95). Even after 53 days of abstinence, adolescents showed
impaired working memory and risk taking (85). Young adults
abstinent for up to 4 weeks showed poorer verbal fluency
relative to control subjects (119) and nonsignificantly poorer
performance on a gambling task, associated with prior quantity
of weekly cannabis use (127). Older adults abstinent for
.28 days were impaired on executive function and information
processing but not attention and working memory (57). Lyons
et al. (64) argued that their study of monozygotic twins,
discordant for cannabis use with .12 months abstinence,
provides evidence against long-term effects of cannabis on
cognition, despite finding impaired performance on block
design tests and trends toward poorer long delay and cued
verbal recall and poorer finger tapping performance in the
former users.
__________________________________________________________________
HIGHLIGHTS
•

Epidemiological studies show that cannabis use is associated with a higher risk of developing psychosis.

•

Only a small proportion of cannabis users go on to develop psychosis.

•

Risk factors include heavy cannabis use in young age, genetic vulnerability and environmental stress.
Cannabis acts as a component cause of psychosis.
However, the strongest evidence that cannabis use may have a causal association with schizophrenia comes from longitudinal studies of large representative samples of the population who have been followed up to see if cannabis users are at higher risk of developing schizophrenia. The earliest such evidence came from a 15-year prospective study of cannabis use and schizophrenia by  who examined around 50,000 Swedish conscripts. They found that those who had tried cannabis by age 18 were 2.4 times more likely to be diagnosed with schizophrenia 15 years later than those who had not and the risk of this diagnosis increased to around six times with higher frequency of cannabis use. The risks were substantially reduced but still significant after statistical adjustment for variables that were related to the risk of developing schizophrenia.
______________________________________________________
ABSTRACT
Evidence has accumulated over the past several decades suggesting that both exocannabinoids and endocannabinoids play a role in the pathophysiology of schizophrenia. The current article presents evidence suggesting that one of the mechanisms whereby cannabinoids induce psychosis is through the alteration in synchronized neural oscillations. Neural oscillations, particularly in the gamma (30–80 Hz) and theta (4–7 Hz) ranges, are disrupted in schizophrenia and are involved in various areas of perceptual and cognitive function. Regarding cannabinoids, preclinical evidence from slice and local field potential recordings has shown that central cannabinoid receptor (cannabinoid receptor type 1) agonists decrease the power of neural oscillations, particularly in the gamma and theta bands. Further, the administration of cannabinoids during critical stages of neural development has been shown to disrupt the brain's ability to generate synchronized neural oscillations in adulthood. In humans, studies examining the effects of chronic cannabis use (utilizing electroencephalography) have shown abnormalities in neural oscillations in a pattern similar to those observed in schizophrenia. Finally, recent studies in humans have also shown disruptions in neural oscillations after the acute administration of delta-9-tetrahydrocannabinol, the primary psychoactive constituent in cannabis. Taken together, these data suggest that both acute and chronic cannabinoids can disrupt the ability of the brain to generate synchronized oscillations at functionally relevant frequencies. Hence, this may represent one of the primary mechanisms whereby cannabinoids induce disruptions in attention, working memory, sensory-motor integration, and many other psychosis-related behavioral effects
____________________________________________________________
AT THE TIP OF AN ICEBERG: PRENATAL MARIJUANA AND ITS POSSIBLE RELATION TO NEUROPSYCHIATRIC OUTCOME IN THE OFFSPRING
At the Tip of an Iceberg Prenatal Marijuana and Its Possible Relation to Neuropsychiatric Outcome in the Offspring
CONCLUSIONS
Penetrating any developing neural system with external
stimuli leads to functional alterations. The endocannabinoid
system is an evolutionarily conserved signaling network that
guides critical aspects of brain development (185). In this
review, we highlighted human and rodent data to show that
prenatal exposure to CB1R agonists impacts neuronal development,
leading to altered neurotransmitter and neuronal
circuit settings. While ensuing neuroanatomical changes and
behavioral consequences in the offspring are evident, the
intriguing question remains why some neuropsychiatric diseases
evoked by adult or adolescent marijuana consumption
do not manifest in offspring with prenatal drug exposure. The
quasi-absence of epileptiform activities or schizophrenia
symptoms in children with maternal cannabis use does not
only highlight differences in endocannabinoid function in
adult versus the fetal brain but demonstrates the need for
further mechanistic studies to dissect molecular and cellular
determinants of cannabinoid action.
This review discussed data from basic and clinical neuroscience
in relation to cannabis use and brain development.
Nevertheless, the impact of cannabis use on the dependence/
use of drugs considered more harmful later in life was only
briefly touched upon here. Almost all of those who tried
cocaine and heroin first used alcohol, tobacco, and cannabis
(186), and regular cannabis users are most likely to later use
heroin and cocaine (187) with an earlier age of cannabis use
onset being a further risk factor (186). Thus, social complexity
specifics must be considered when concluding on the actual
danger of cannabis use for the development of neuropsychiatric
disorders.
____________________________________________________________________
The Impact of Exposure to Cannabinoids in Adolescence Insights From Animal Models
ABSTRACT
The regular use of cannabis during adolescence is of particular concern because use by this age group seems to be
associated with an increased likelihood of deleterious consequences, as reported by several epidemiologic studies.
However, despite their unquestionable value, epidemiologic data are inconclusive. Modeling the adolescent phase in
animals appears to be a useful approach to investigate the impact of cannabis use on the adolescent brain. In these
models, adolescent cannabinoid exposure has been reported to cause long-term impairment in specific components of learning and memory and to have differential effects on anxiety, social behavior, and depressive-like signs. These findings suggest that it may represent, per se or in association with other hits, a risk factor for developing psychotic like symptoms in adulthood. The neurobiological bases of this association include the induction of alterations in the maturational events of the endocannabinoid system occurring in the adolescent brain. Alterations in theendocannabinoid system may profoundly dysregulate developmental processes in some neurotransmitter systems, such as gamma-aminobutyric acid and glutamate, mainly in the cortex. The resulting picture strongly resembles the one present in schizophrenic patients, highlighting the translational value of this experimental approach
___________________________________________________________________________
ABSTRACT
The past decade has witnessed a number of societal and political changes that have raised critical questions about
the long-term impact of marijuana (Cannabis sativa) that are especially important given the prevalence of its abuse
and that potential long-term effects still largely lack scientific data. Disturbances of the epigenome have generally
been hypothesized as the molecular machinery underlying the persistent, often tissue-specific transcriptional and
behavioral effects of cannabinoids that have been observed within one's lifetime and even into the subsequent
generation. Here, we provide an overview of the current published scientific literature that has examined epigenetic
effects of cannabinoids. Though mechanistic insights about the epigenome remain sparse, accumulating data in
humans and animal models have begun to reveal aberrant epigenetic modifications in brain and the periphery linked
to cannabis exposure. Expansion of such knowledge and causal molecular relationships could help provide novel
targets for future therapeutic interventions.
__________________________________________________________________________
_____________________________________________________________________________
Here is another article outlining the possible role of using the endocannabinoid system for treating psychosis:
_____________________________________________________________________
RESULTS:
Between January 1, 1995, and December 31, 2014, 38,681 samples of cannabis preparations were
received and analyzed. The data showed that although the number of marijuana samples seized over the last 4 years
has declined, the number of sinsemilla samples has increased. Overall, the potency of illicit cannabis plant material
has consistently increased over time since 1995 from 4% in 1995 to 12% in 2014. The cannabidiol content has
decreased on average from .28% in 2001 to ,.15% in 2014, resulting in a change in the ratio of Δ9 -tetrahydrocannabinol to cannabidiol from 14 times in 1995 to 80 times in 2014.
CONCLUSIONS:
There is a shift in the production of illicit cannabis plant material from regular marijuana to sinsemilla. This increase in potency poses higher risk of cannabis use, particularly among adolescents.
_____________________________________________________________________________