NOVA Addiction Specialists website – Suboxone and telemedicine treatment in Alexandria, Virginia 703-844-0184

Dr. Sendi – at NOVA Addiction Specialists can evaluate you to see if Sublocade will work for you.

NOVA Addiction facebook page

Suboxone treatment in Alexandria, Virginia 703-844-0184

Suboxone treatment in Fairfax, Virginia 703-844-0184

https://suboxonewoodbridge.com

Suboxone, buprenorphine telemedicine treatment in Alexandria  << Link here

http://addictiondomain.com/ Addiction Blog

https://www.facebook.com/novaddiction – Facebook page

http://www.suboxonealexandria.com

http://www.suboxonecenter.org/ Suboxone treatment – telemedicine also – 703-844-0184 24/7
ZOMBIES ARE COMING!!!
Mass outbreaks of K2 and other drug poisoning are not entirely new, but certainly for those believing the apocalypse is coming, this story below is concerning. This K2 overdose in Connecticut resulted in numerous medical injuries. Again, a block part that has the same source is at risk like this on was. I included another Zombie Apocalypse event from NEJM at the bottom of the page:
Police make arrest after 46 people overdose at Connecticut park originally appeared on abcnews.go.com
Connecticut police have made an arrest in connection with more than three dozen overdose cases at a New Haven park.
First responders found about 46 people who appeared to have overdosed on the New Haven Green on Wednesday, with 25 of those overdoses occurring within a three-hour span in the morning and some four to six at a time, officials said.
A local man believed to be connected to at least "some" of the overdoses was arrested later that afternoon, according to the New Haven Police Department. His identity will not be released until he has been positively identified by a probable victim, police said.
Dozens of people suffering from apparent overdoses were transported to local hospitals from the New Haven Green, according to Rick Fontana, director of the city's Office of Emergency Operations.
The victims appeared to be suffering from a "multiple of signs and symptoms ranging from vomiting, hallucinating, high blood pressure, shallow breathing, semi-conscious and unconscious states, Fontana said. Two people had life-threatening symptoms, he added.
The New Haven Police Department is investigating the case.
"There have been a couple individuals that were certainly more sicker than others," Fontana told reporters at a press conference Wednesday morning. "We are doing our best to get people to the hospital in the safest, most practical and efficient manner. We have no deaths reported."
New Haven Fire Chief John Alston Jr. said emergency crews were overwhelmed with "multiple" 911 calls about people who were experiencing overdose symptoms or were passed out on the New Haven Green just after 8 a.m. local time. First responders sprinted across the park from victim to victim as more calls came in.
"Even while we were trying to return people to service, they were passing victims on the ground," Alston told reporters.
(MORE: Spotlighting the effects and dangers of K2, or synthetic marijuana)
The victims, who officials said ranged in age and demographic, were at times found in groups of four to six. Their symptoms included vomiting, hallucinating, high blood pressure, shallow breathing, semi-conscious and unconscious states, officials said.
Victims were given several doses of naloxone, an antidoe for narcotic overdoses, both on the scene and at the hospital.
Alston said it's unclear what was the cause of the overdoses, but officials suspect it may have been synthetic cannabinoids, known as K2, that were likely laced with other substances.
"It's a nationwide problem," Alston said of drug overdoses. "This is a problem that's not going away."
It's called K2, synthetic marijuana, and it has caused a cluster of deaths in Chicago.
The Chicago Tribune reported three arrests over Easter weekend after large amounts of K2 being sold at a convenience store were discovered to be contaminated with a toxic compound used as rat poison.
Between March 10 and April 2, 56 people have been hospitalized in Illinois, all related to K2, the Tribune reported. Two have died.
Here's what you need to know:
What is synthetic marijuana?
Contrary to what many think, synthetic marijuana is not one drug, and it is very different from tetrahydrocannabinol (aka THC, the main compound in natural marijuana). Synthetic marijuana is a "designer drug," a chemical engineered to create the same effects as an illegal drug, but one that is different enough to avoid drug laws.
Synthetic cannabinoids (substances mimicking marijuana) work on the same brain receptors as THC, but can bind to the receptor up to 100 times more tightly than THC. Most were actually developed for research purposes so that scientists could better understand the role of THC receptors in the brain. Unlike marijuana, they have no reported potential for medical use. Eighty-four new synthetic cannabinoids were identified by the National Forensic Laboratory Information System in 2015 alone (for comparison, there were only two in 2009). These chemicals, all vastly different from each other, do not cause identical responses in the brain.
A synthetic marijuana chemical is most often sprayed onto a mix of plant materials so that it can be smoked. The chemicals can also be mixed into a liquid for vaping with e-cigarettes or added directly to herbal tea or foods. According to the Drug Enforcement Administration (DEA), this manufacturing and packaging happens "without pharmaceutical-grade chemical purity standards" and "ignoring any control mechanisms to prevent contamination or to ensure a consistent, uniform concentration of the powerful and dangerous drug in each package."
Why do people use synthetic marijuana?
People use synthetic cannabinoids for many reasons: easy access, lower cost or the promise of a more intense high than they get with marijuana. Many hope that use of synthetic marijuana will avoid a positive urine drug test since many of the chemicals used to make the drugs are not known to the DEA.
In fact, the makers of synthetic marijuana are constantly tweaking the structures of their chemicals to avoid being recognized by the government as an illegal substance and to prevent scientists from developing a drug test for their compound.
Most are made in Asia and smuggled into the U.S., branded as something else. According to the Centers for Disease Control and Prevention (CDC), "There are no standards for making, packaging, or selling synthetic cannabinoid chemicals. That means that two packets of a brand-named product may have completely different chemicals."
Despite all this, cannabinoids are marketed to unwitting buyers as safe and legal alternatives to marijuana. The CDC says that these drugs "are distributed worldwide under countless trade names and packaged in colorful wrappers designed to appeal to teens, young adults, and first-time drug users."
They are labeled as "natural" compounds based on the plants inside — even though the active ingredient is a factory-made chemical. Because they have never earned approval from the Food and Drug Administration (FDA), cannabinoids are sold as "herbal products," "incense," or "potpourri" to disguise their real use. Most packages are marked with "not for human consumption" — not because the makers don't want human to use them, but so that the company cannot be held at fault for problems associated with smoking or eating the drug.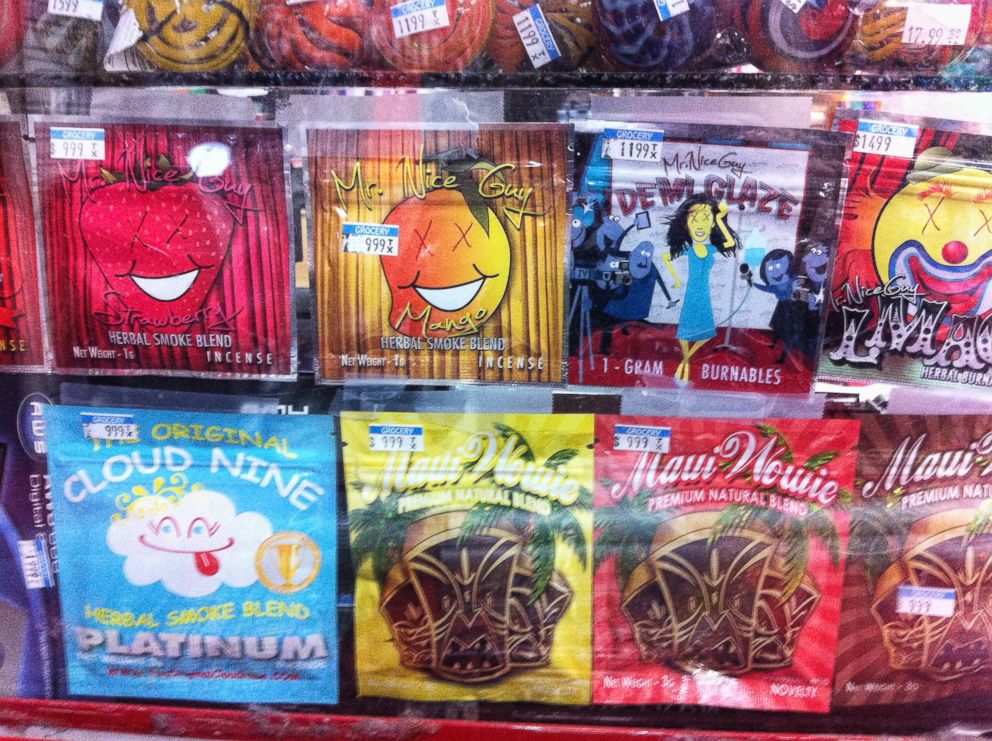 So, are these substances actually legal?
Based on major concerns about the danger of these products, the DEA and local agencies are attempting to keep up with drugmakers to ban every known synthetic marijuana substance, but it's tough to stay on top of all the compounds. As of 2017, 26 cannabinoids were listed as Schedule 1 controlled substances (the most severely restricted substances), though there are likely hundreds more being sold.
What are the effects of synthetic pot on the body?
The effects of these drugs are highly unpredictable, as the actual chemical in the package is widely different and may even change from batch to batch. Many buyers experience different effects than intended.
First and foremost, these are "psychoactive" substances, which cause an altered mental perception of the world. This high can be associated with irritability, confusion, sleepiness, dizziness and inability to concentrate. At worst, they cause hallucinations (fives times more often than THC), suicidal thoughts and violent behavior. They are also far more likely than marijuana to cause other symptoms like vomiting and muscle breakdown. They can lead to heart problems such as fast heart rate, high blood pressure and even heart attacks. There have been reports of rapid and complete kidney failure related to specific strains of synthetic marijuana. In 2018 so far (through March), Poison Control Centers have received 462 calls concerning symptoms related to these drugs. In 2015, there were 7,762 total calls, the highest year on record. Of the people who call poison control or come to the emergency department for problems related to synthetic cannabinoids each year, approximately 1 in 100 die from these events.
Unlike marijuana, synthetic cannabinoids are addictive and regular users report feeling intense withdrawal symptoms when they stop using.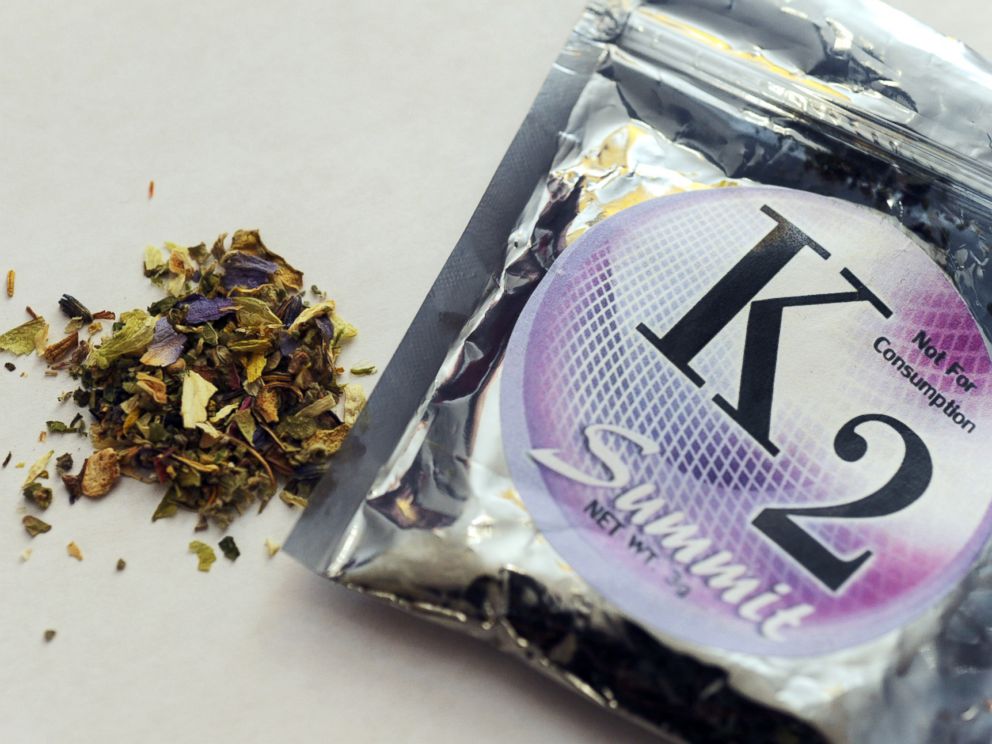 What else is in the package?
Another highly concerning feature of synthetic cannabinoids: These drugs are frequently contaminated with other drugs, and buyers have no idea what may be in the packet. The most common contaminating drug is another designer drug, in a drug class called "cathinones."
Just as synthetic cannabinoids are designed to mimic THC, cathinones are designed to mimic the effects of cocaine or methamphetamines. Their effects are just as unpredictable and dangerous. When sold by themselves, they are sold as "bath salts" or "plant food" in order to use the label "not for human consumption." This class of medications most commonly cause confusion, agitation, aggressive and self-harming behavior. They can also lead to fast heart rate, high blood pressure, muscle breakdown, kidney failure and death.
What about the Chicago cases?
The contaminating substance in the recently reported cluster of illnesses is brodifacoum. This is the first time that this substance has been reported in synthetic marijuana, but it has previously been reported to be mixed with other drugs of abuse to make their effects last longer.
Brodifacoum is a rat poison. It is made from the more commonly known rat poison, Coumadin (or warfarin), whose name you may recognize, since, in small doses, it's used as a medically prescribed blood thinner. Warfarin and brodifacoum interfere with the body's natural clotting factors and can cause life-threatening bleeding.
Brodifacoum is known as a "superwarfarin," which means that its effects on the body last a long time and are very difficult to reverse. Bleeding can occur from any part of the body: Several of the recent cases reported bleeding from the eyes and ears, and deaths occurred due to unstoppable internal bleeding.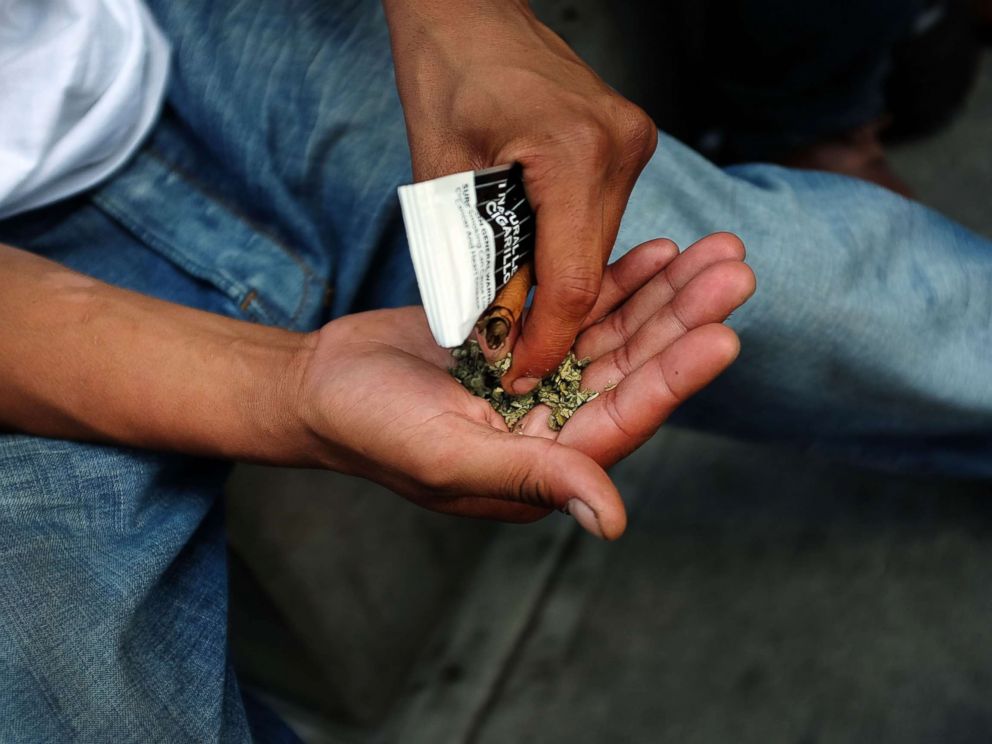 Take-home message
Though they are sold as safe, legal alternatives to marijuana (and a way to avoid getting caught using drugs), synthetic cannabinoids are a different class of chemicals completely.
They are unpredictable and highly dangerous on their own — and can be contaminated with even more toxic and unreported chemicals, making this a hazardous trend that will likely be marked with more reports of deadly events in the future. In addition, know that there is no standardization in the labels or packets, no guarantee what is inside and no idea, if you take a synthetic cannabinoid, what will happen to you.
If you or someone you know is having health effects that may be related to synthetic marijuana, seek medical attention. More information can be found at the websites of the CDC and the National Institutes of Health.
________________________________
CDC Warning regarding bleeding from FAKE weed:
Synthetic cannabinoids: What are they? What are their effects?
Synthetic Cannabinoids – Illinois department of health
CDC Advisory regarding bleeding from K2
Outbreak Alert: Potential Life-Threatening Vitamin K-Dependent Antagonist Coagulopathy Associated With Synthetic Cannabinoids Use
Summary
From 10 March 2018 through 05 April 2018, 94 people have presented to Emergency Departments (89 in Illinois, 2 in Indiana, 1 in Maryland, 1 in Missouri, and 1 in Wisconsin) with serious unexplained bleeding. None of these patients were on anticoagulation therapy or reported exposure to rat poisons containing a long-acting anti-coagulant brodifacoum. However, their work-up and their response to treatment with fresh frozen plasma and high doses of vitamin K was consistent with long-acting vitamin K-dependent antagonist toxicity. Laboratory investigation confirms brodifacoum exposure in at least 18 patients. There are 2 fatalities—both in Illinois. Illinois public health epidemiologists interviewed 63 patients, and they all reported synthetic cannabinoids use. At least 3 synthetic cannabinoid product samples related to this outbreak have tested positive for brodifacoum. A working hypothesis is the synthetic cannabinoids were contaminated with brodifacoum. Additional activities by the Illinois Department of Public Health include:
Sent clinical alert to providers and Emergency Departments for awareness and to ask them to report new cases.
Sent alert to local health departments with instructions of what to do if they receive a call about similar cases.
Alerted surrounding states of additional potential risks associated with synthetic cannabinoids use.
Released Epi-X to alert health departments nationwide, and report cases to Illinois Department of Public Health.
Issued press release to alert public of potential risk associated with synthetic cannabinoids use.
The Centers for Disease Control and Prevention (CDC) sent a team to assist the Illinois Department of Public Health with the epidemiologic investigation. CDC is also:
Coordinating with multiple states involved.
Reviewing calls to all U.S. poison information centers to identify suspect cases that may be related to the current outbreak.
Lessons learned:
Hospitals' supply of vitamin K may be an issue. Cost of outpatient oral vitamin K treatment can be $8,000.00 for 2 weeks treatment, and expected treatment duration is months. Options are being explored to address these issues.
Three patients in Illinois were discovered to have donated plasma prior to admission to hospital for treatment. This issue has not been reported in Indiana or Wisconsin. Cases were reported to and advice was requested from CDC and the U.S. Food and Drug Administration (FDA). Questions regarding plasma/blood donation are added to the case questionnaires. Previous patients were followed up in this regard and new patients are asked about plasma/blood donations.
Patients sent home from surgery or other procedures that could result in bleeding should be told not to use synthetic cannabinoids because of the risk that the product may be contaminated with an anticoagulant.
What are the Clinical Signs of Coagulopathy?
Clinical signs of coagulopathy include bruising, nosebleeds, bleeding gums, bleeding disproportionate to injury, vomiting blood, coughing up blood, blood in urine or stool, excessively heavy menstrual bleeding, back or flank pain, altered mental status, feeling faint or fainting, loss of consciousness, and collapse.
What Do Health Care Providers Need To Do?
Healthcare providers, particularly those based in Illinois and neighboring states, should maintain a high index of suspicion for vitamin K-dependent antagonist coagulopathy in patients presenting with clinical signs of coagulopathy, bleeding unrelated to an injury, or bleeding without another explanation and with a possible history of synthetic cannabinoids (e.g., K2, Spice, and AK47) use; some patients may not divulge use of synthetic cannabinoids. These patients should be screened for vitamin K-dependent antagonist coagulopathy by checking their coagulation profile (e.g., international normalized ratio (INR) and prothrombin time (PT)).
When cases of suspected vitamin K-dependent antagonist coagulopathy associated with synthetic cannabinoids use are identified:
Contact your local Poison Information Center (1-800-222-1222) for questions on diagnostic testing and management of these patients.
Promptly report suspected cases to your local health department or your state health department, if your local health department is unavailable. In addition, report any similar cases encountered since 01 February 2018 to your local health department.
In an effort to better understand the scope of this outbreak, ask your Medical Examiners' office to report suspected cases, especially those without an alternative diagnosis. If individuals are identified after death or at autopsy showing signs of suspicious bleeding as described above, coroners are encouraged to report the cases to their local health department.
For updated information about the Illinois outbreak—connect with the Illinois Department of Health http://www.dph.illinois.gov/topics-services/prevention-wellness/medical-cannabis/synthetic-cannabinoids
______________________________________________
Here is a case description of another mass outbreak of Zombie-like behaviors after K2 ingestion:
BACKGROUND
New psychoactive substances constitute a growing and dynamic class of abused drugs in the United States. On July 12, 2016, a synthetic cannabinoid caused mass intoxication of 33 persons in one New York City neighborhood, in an event described in the popular press as a "zombie" outbreak because of the appearance of the intoxicated persons.
METHODS
We obtained and tested serum, whole blood, and urine samples from 8 patients among the 18 who were transported to local hospitals; we also tested a sample of the herbal "incense" product "AK-47 24 Karat Gold," which was implicated in the outbreak. Samples were analyzed by means of liquid chromatography–quadrupole time-of-flight mass spectrometry.
RESULTS
The synthetic cannabinoid methyl 2-(1-(4-fluorobenzyl)-1H-indazole-3-carboxamido)-3-methylbutanoate (AMB-FUBINACA, also known as MMB-FUBINACA or FUB-AMB) was identified in AK-47 24 Karat Gold at a mean (±SD) concentration of 16.0±3.9 mg per gram. The de-esterified acid metabolite was found in the serum or whole blood of all eight patients, with concentrations ranging from 77 to 636 ng per milliliter.
CONCLUSIONS
The potency of the synthetic cannabinoid identified in these analyses is consistent with strong depressant effects that account for the "zombielike" behavior reported in this mass intoxication. AMB-FUBINACA is an example of the emerging class of "ultrapotent" synthetic cannabinoids and poses a public health concern. Collaboration among clinical laboratory staff, health professionals, and law enforcement agencies facilitated the timely identification of the compound and allowed health authorities to take appropriate action.
Zombie Outbreak Caused by the Synthetic cannabinoid AMB FUBINACA